Snowy Ride Local Community Checkpoint Information
PLATINUM SPONSORS

| | | | | |
| --- | --- | --- | --- | --- |
| | | | | |
__________________________________________________________________________________________________________________________

PLEASE NOTE:




Your NPWS Entry Sticker is valid from




12 noon Friday 2nd November 2018 to




12 noon Sunday 4th November 2018




If you are staying longer withing the National Park you will need to pay the additional Park entry fees.



__________________________________________________________________________________________________________________________
COOMA


The

Australian National Busking Championships™ is on again this year over the weekend. Experience

fantastic performances, live music, street entertainment and top class competition of the busking championships. Buskers will be performing in and around the park so be sure to make some time to take in the great atmosphere.

To find out more about

The Australian National Busking Championships™

go to website or Facebook page.
The Checkpoint will be in Centennial Park and motorcycle parking will be in Bombala Street using part of bus zone and loading zone. It will be signposted.
 Google Map

View Larger MapMonaro Motorcycles & Power Equipment (next to the bridge in Cooma), in conjunction with Pirelli Tyres, will be donating $10 from every tyre purchased over the Snowy Ride weekend to the

Steven Walter Children's Cancer Foundation.

____________________________________________________________________________________________________________________________________________

CHARLOTTE PASS




The Charlotte Pass Checkpoint is again at the Kosciuszko Chalet and again the Chalet will be serving food and hot and cold drinks. The ride to Charlotte Pass is one of the best motorcycle rides in the country. Make some time to enjoy lunch or a snack at the highest chalet in Australia.

Google Map
View Larger Map


____________________________________________________________________________________________________________________________________________

DALGETY




The Dalgety Checkpoint is again at the showground and will be serving their famous roast lamb rolls.You will also be able to purchase other homemade delights.

One of our regular long time Snowy Ride supporters who is also a member of Honda CBX-6 Owners Club of Australia, has arranged to hold a show & shine display at the Dalgety checkpoint from 9:00am to 12:00 noon on Snowy Ride Saturday, 3rd November 2018.

Make sure you include a visit to the Dalgety checkpoint to see the display of the iconic Honda CBX-6.

Google Map


View Larger Map

____________________________________________________________________________________________________________________________________________

BOMBALA
The Bombala Checkpoint is again at the Platypus Country Visitors Centre, at the Railway Park on the Monaro Highway. As always Bombala welcomes motorcycle riders. Enjoy the ride from Bombala via the Snowy River Way to Dalgety.

Google Map
View Larger Map

____________________________________________________________________________________________________________________________________________

JINDABYNE
Once again the Snowy Region Visitor Centre Jindabyne is proud to a part of the Snowy Ride 2018.  The Jindabyne Checkpoint will be located inside the Visitor Centre located at the National Parks & Wildlife building Kosciuszko Road Jindabyne.  The  Parc Café will be operating within the centre offering a variety of fantastic food, hot and cold drinks for the weary riders.

Show & Shine will be held Saturday 3rd November 9am to 2pm at the Jindabyne Town Centre
Categories will be Historic Road (pre 1989) Modern Road (post 1989). Historic Off-Road (pre 1989) Modern Off-Road (post 1989). "Rat Bike" Any age. Entry $5 for each bike or $10 for 2 or more.

Jindabyne locals welcome the Snowy Ride riders and hope they enjoy our little piece of paradise!!

Google Map


View View Larger Map

_____________________________________________________________________________________________________________________________________________

THREDBO


The Thredbo Checkpoint is located on Friday Drive near the Honda Test Ride truck. Make sure to get your completed Entry Ticket in by 4pm to ensure it goes into the draw. Make time to enjoy a sausage sandwich at the SWCCF BBQ.

Google Map


View Larger Map

_____________________________________________________________________________________________________________________________________________

ADAMINABY


The Adaminaby Checkpoint is again in the center of Adaminaby. Enjoy a BBQ put on by the local P&C or lunch in one of the eateries. The Snow Goose Hotel will again have live music.

Goggle Map
View Larger Map

_____________________________________________________________________________________________________________________________________________

BERRIDALE
The Berridale Checkpoint is in front of the Berridale Inn Hotel Motel as usual. Enjoy the relaxed atmosphere under the verandah of this historic building.

Google Map
View Larger Map

______________________________________________________________________________________________________________________________________________

For information on accommodation, eateries and our sponsors click HERE
IF YOU ARE STILL IN THE AREA ON SUNDAY 4TH NOVEMBER YOU MIGHT LIKE TO ATTEND ONE OR BOTH OF THESE EVENTS
The Australian National Busking Championship National Grand Final Cooma
First Place Getters from all the seven 2018 ANBC Regional Championships in Stanthorpe, Ballarat, Narooma, Noosa, Peak Hill, Gundagai, and Cooma will be invited to busk on Sunday morning.
Nine competitors, three from each age categories, will then be selected to perform for prizes in the National Grand Final Concert to be held at 1:00 pm.

All the competitors that have qualified to busk on Sunday will receive a cash prize.

Buskers that have qualified for Sunday are welcome to also busk on Saturday. They can receive cash tips, sell CDs and merchandise, however as they will be guaranteed a share of the prizes on Sunday, they will not be able to win extra prizes on Saturday.
Live: Beccy Cole
Bring your picnic blanket, sit in the sun and listen to the husky tones and warming lyrics of country music songstresses, Beccy Cole and Libby O'Donovan along with percussionist, Kelly Brouhaha.
DATE: Sunday 4th November 2018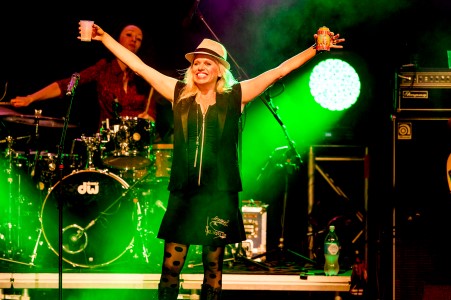 TIME: 3.30pm – 7.00pm – outside near Cuisine Restaurant
COST: $40.00 per person (kids 12 and under free of charge)
There will be a full bar and food available for sale at the event.
Please note: NO BYO alcohol.
CLICK HERE TO PURCHASE TICKETS

MOTORCYCLE SAFETY
SNOWY HYDRO 2.0 FEASIBILITY STUDY
There will be some changed traffic conditions in and around the Snowy Mountains region due to the Snowy Hydro 2.0 Feasibility Study which may affect riders, including:
Increased truck movements on the Elliot Way, Link Road and the Snowy Mountains Hwy between the Link Road turn off and Bullocks Hill horse camp area, due to haulage activities

Potential for reduced speed limits at times on the Link Road and Snowy Mountains Hwy

Vehicles entering/ exiting the Snowy Mountains Hwy at Bullocks Hill horse camp area and Gooandra Hill.
As in previous years there will be an increased Police presence in the Region over the Snowy Ride weekend. The Police have made it clear to us that they are not there to ruin anyone's weekend but to make sure that the few riders who have not worked it out yet that they cannot turn the Snowy Ride into a race weekend.
Unfortunately the majority of riders pulled up for high speed in the past have not been registered for the Snowy Ride so don't get to read any of this.
There will be the usual cars and bikes but in addition this year there will be two mobile cameras. These cameras have a sign 250m and 50m before them so there is no reason for anyone not to know where they are.

FIND OUT ABOUT ROAD CONDITIONS
Road conditions can change quickly in the Snowy Region. To access the latest information on any planned or unplanned road closures or incidents, check www.livetraffic.com.

To get the latest information when you're out on the road, download

the Live Traffic NSW mobile apps for iPhone and Android and 'Like' us on www.facebook.com/TheSnowyRide.

To report any problems you might encounter and help out your fellow riders, call the Transport Management Centre on 131 700

.
FOR BREAKDOWN SERVICE
Darren Worth from Shift-It Motorcycles has kindly offered his services
for the Snowy Ride weekend to pick up bikes that for whatever reason
refuse to go forward under their own power contact Darren
phone 0419 236 695. This is not a free service, you will need to work
out cost with Darren at the time.
MONARO MOTORCYCLES – COOMA
Warren and his team will be open all Snowy Ride weekend helping
out with everything they can if something has gone wrong. They are
located in the main street of
Cooma at the bridge.
Phone 02 6452 4040 all weekend.

This page sponsored by