The Cooma Community and Sports Bus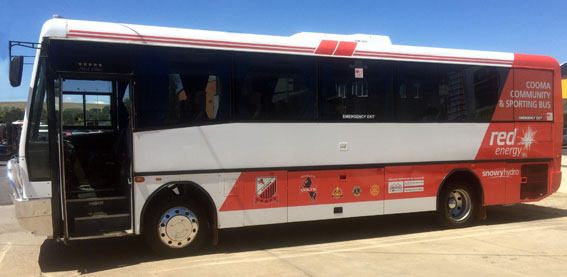 The Cooma Community and Sports Bus is an initiative of the Cooma Rugby Union Club, Cooma Car Club, Cooma Colts Rugby League Club, Cooma Apex, Cooma Lions Club and the Rotary Club of Cooma.
The purpose of the 35 seat bus is to ensure that junior sporting bodies and schools have access to a bus service at a reasonable cost. When not in use by these groups the bus can be hired by private groups.
To hire the bus you must provide your own driver and cannot be used as a fee per passenger vehicle. The bus is not available for trips to ski fields in winter. Bookings are prioritised by the committee.

Committee members for the bus are Brian Coyte (Cooma Rugby Union Football Club), Peter Quodling (Cooma Car Club), Les Suttcliffe (Rotary Club of Cooma), Mick Mayhew (Lions Club of Cooma) and Andy Hayden (Cooma Colts).
For more information on availability and pricing please complete the form below.

Contact Community Bus
Or you can call Brian Coyte on 0428 484 999 or Peter Quodling on 0439 676 444.