Sunday 11 March 2018 to Sunday 18 March 2018
As an alternative to the Around Australia Ride 2018 there will be a seven day/six-night motorcycle tour of the southern NSW and the Victorian Coastline and back through the Grampians and western Victoria and finishing over the Snowy Mountains of NSW showcasing some of the most scenic natural landscapes and great motorcycle roads in Australia. The ride would cover approximately 2400 km and the days riding would be between 160 km to 450 km allowing time to enjoy the many amazing things to see and do along the way.
Riders would be invited to arrive in Cooma NSW on Saturday 11 March and attend a dinner on Saturday night to meet their fellow riders. The ride would depart on Sunday morning and head south into Victoria and finish in Sale. The next day would involve a ride through south east Gippsland and finish on Phillip Island allowing riders time to visit some of the iconic places on the Island.

The third day takes us across Port Phillip Bay on the ferry and from Queenscliff along the Great Ocean Road and spending the night in Warrnambool. The next day we head straight up to the Grampians and take time to enjoy some of the magnificent lookouts and spend the night in Halls Gap.


We then start to head back home with a night in Mansfield and our final night in Bright staying on the banks of the Ovens River. There will be a final night function where we can enjoy memories of the week and update on our fundraising activities.
Meet the Challenge To help us continue to raise money to support research into a cure for childhood cancer we need your help. Thank you for your support so far and for taking this first step to find out more about what you can do to help us achieve our mission of 100% survival for all children diagnosed with cancer and the prevention of their suffering.
What is the Challenge? We're asking you, our supporters, your family, friends and colleagues to raise $2000 by doing what you can to help us break all the previous fundraising milestones and help us raise the most money we ever have for childhood cancer research. Your challenge is to create and host your own 'Meet the Challenge' themed fundraising events and activities. We're hoping that a little bit of healthy competition between fundraisers will help us raise as much as we can and reach our goal. To help get things started we've developed a Fundraising Toolkit which contains some basics on how to host a fundraising event or activity.
Day 1 Cooma to Sale – 406 km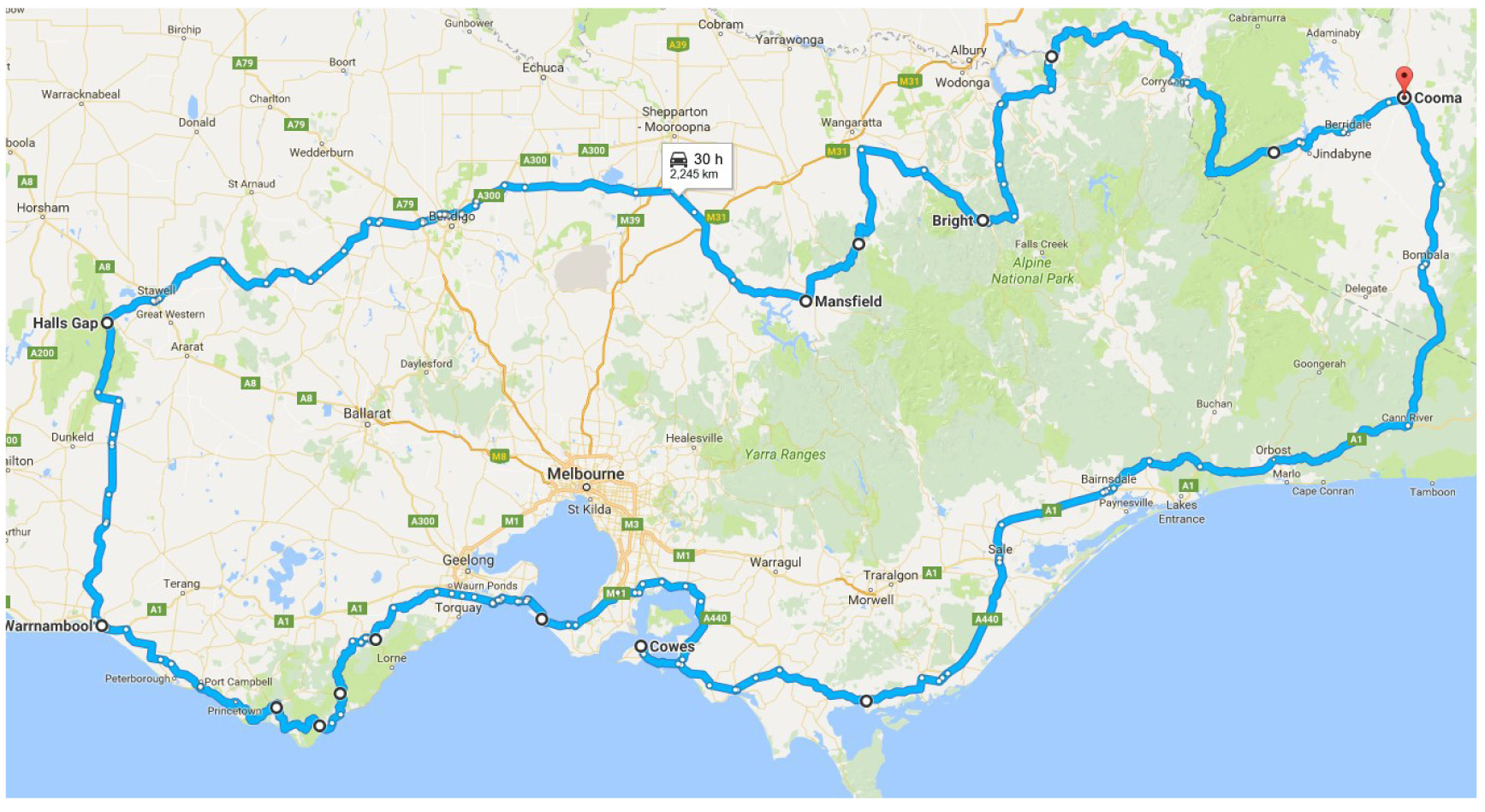 Bypass Lakes Entrance and go a bit further to Sale.
There are a few interesting things to see such as Swing Bridge, Gippsland Armed Forces Museum and if time allowed, a Port of Sale Cruise on the La Trobe River to the Swing Bridge and back.

Day 2 Sale to Cowes – 234 km
Via the south coast. Lots to do on Phillip Island including the Penguins, Chocolate Factory, Nobbies Centre, Vietnam Vets Museum, Pinnacles Lookout, Koala Reserve and just looking at nice places such as Rhyll.

Day 3 Cowes to Warrnambool – 448 km
Via the Sorrento Queenscliff Ferry and the Great Ocean Road.

Day 4 Warrnambool to Halls Gap – 160 km
Ride through the Grampians. Lots of lookouts and waterfalls to stop and look at.

Day 5 Halls Gap to Mansfield – 408 km
Via Bendigo and crossing the highway so as not to travel on the Hume highway.
High Country Maze, ride to Lake Eildon, Mansfield Zoo

Day 6 Mansfield to Bright – 175 km
Again, avoid the highway travel inland through King Valley and Milawa and Myrtleford
BBQ Dinner on the banks of the Ovens River in Bright to finish the event.

Day 7 Bright to Cooma – 450 km or shorter run for those heading home.
For all enquiries please complete the form below and we will get back to you with all the answers